Special Events at the Orchard Barn

The Orchard Barn Studio & Gallery presents an afternoon which includes an orchard tour, pruning demonstration, delicious sweet treats, art gallery viewing, coffee and refreshments

.

The Orchard Barn Studio & Gallery and Lew Truscott who's family have been orchardists in the Creston Valley for 84 years, will be demonstrating and answering your questions on pruning your backyard fruit trees.  We will also take a short walk into the orchard to show you the Lapin, Rainier, and Bing cherry trees.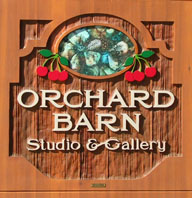 The Creston Garden Festival

presents

Afternoon Delights 

At the Orchard Barn

Studio & Gallery

2:00 p.m.—4:00 p.m.

Sunday, July 10, 2005

For information please call (250)428-2470

Orchard Tour and Backyard Pruning Demonstration

Art Gallery and Gifts in the Orchard Barn

Delicious Sweet Treats


Creston Valley Quilt Festival

Come visit the barn during the week of the Creston Valley Quilt Festival and vote on your favorite square.  The winner will be announced at a Quilter's Coffee Party the evening of Friday, September 16th.

Quilters have been asked to display a square in either a barn theme or orchard theme.

To see who won the challenge check out our daily pictures.

Orchard Barn Studio & Gallery's

Quilt Challenge

The Barnyard has been booked for a private wedding

and will be closed for one day only

Private Wedding - July 17th

June 16, 2005

11:45 - 1:00 p.m.


Chamber of Commerce

Luncheon

Please click on the Chamber icon to

go to the Chamber of Commerce website

Contact the Chamber of Commerce for tickets at

(250) 428-9411